SIXTEEN :D
Saturday, 9 November 2013 | 16:15 | 0
Babbling
Assalamualaikum semuaa :)
Hai. long time tak update tibe2 rasa macam susah plak tangan ni nak menari kat atas keyboard nih. yelah budak sekolah kan, ni pun baru jeh habis final exam. memang berkurun gila nak tunggu exam tu habis wey. sebulan dok. and dah habis ingat kan boleh lah relax kejap tapi makin stress ade lahh . berlambak assignment nak kner buat along this end of year holiday. fiuhh~ kalau senaraikan tuu memang berlambak. bapakk ahh. tapi nak buad macam mana kan, budak sekolah lah katekan. and kata orang
nak berjaya tu bukan bermula dengan kesenangan kan tetapi dengan kesusahan dan usaha XD.
SIXTEEN :D
haha. apa yang menarik sangat kan sampai jadik tajuk segalaa. sixteen kalau daam bahasa malaysiaa maksudnyaa
ENAM BELAS
! erm, sesungguhnya aku dah mencukupi enam belas tahun hidup di muka bumi ini :D adalah dalam beberapa minggu . yelah kan sibuk exam sampai birthday pun berlaluu dengan laju sangadd. masa birthday aku hari tuu exam Math Moden dohh. haha, bersungguh sungguh aku menjawab and hopefully dapatlah A kan. mana tahuu berkat birthday XD
Dan sepanjang enam belas tahun nihlah aku dah lalui macam macam dugaan and peristiwa maybe. macam macam perasaan jugak aku dah rasa. Sedih , gembira , marah, jealous, and many more lah.
Doakan aku untuk hari jadi yang ke-enam belas tuu aku doa semoga hidup aku nih berjalan dengan lancar, ditambah kan iman dan kesabaran dlam menghadapi kehidupan yg mendatang, diberikan kejayaan yg cemerlang dalam SPM 2014 dan terus disayangi orang sekeliling ^^
lastlyy, aku nak cakap thanks dekat semuaa yang wish masa birthday aku hari tuu esp D8. thanks banyak banyak. aku sayang gilaa kat korang include Hani jgakk lah ><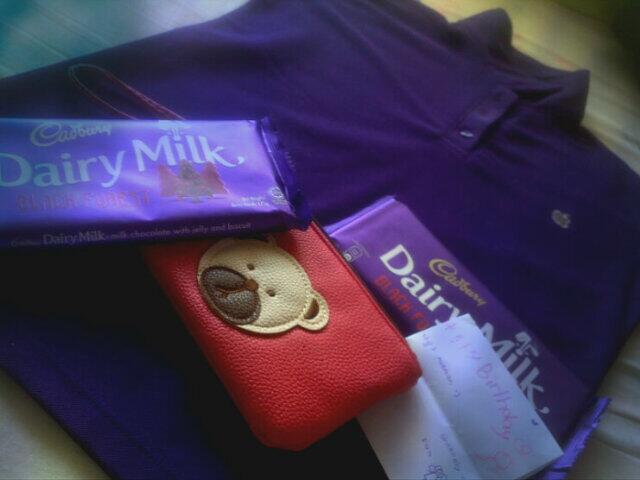 hadiah during birthday ^^

and of the story of Sixteen :D bye bye and Assalamualaikum =)